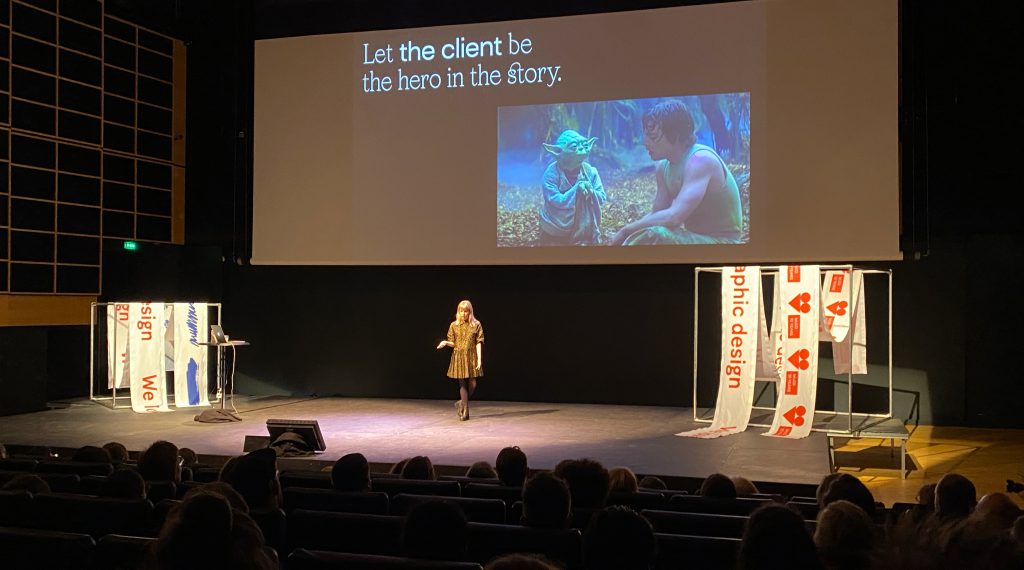 Sofia Pusa under We Love Graphic Design seminaret i 2021. Foto: Ina Susanne Karlsen
Vil du få en gratis studietur til Danmark for et dypdykk inn i verdensledende design? Tidligere har seminaret inkludert nerding i typografi for viderekommende med Ulrike Rauch, designprosess av Sofia Pusa og modern art deco poster-design av Mads Berg.
edit: Da er vinnerne trukket – se liste over hvilke medlemmer som vant nederst i artikkelen.
I anledning 150-års jubileet vårt har vi fått en generøs gave på 10 x billetter med opphold til designkonferansen We Love Graphic Design i København. Gaven er fra våre fagforeningskamerater i HK Privat og HK it, medie & industri Hovedstaden, og gis direkte til medlemmene våre.
«We Love Graphic Design is a celebration of the wonderful world of graphic design in the shape of an annual one day seminar in Copenhagen featuring lectures from some of the most important, inspirational and insanely creative graphic designers right now.»
Meld din interesse her og vi trekker 10 heldige vinnere av denne turen. Vi flyr ned fredag morgen og tilbake søndag dagtid. På fredagen kan du forvente et inspirasjonsmøte med våre fagforeningskamerater som organiserer designere lokalt. Lørdagen går med til WLGD seminaret. Ellers blir det sosialt samvær kombinert med design-relatert innhold.
Frist: 10. juli
Kriterier: Må være medlem av Fellesforbundet avd. 850, Oslo grafiske fagforening innen meldt interesse.
Inkluderer: Transport tur/retur Oslo/København, kost og losji. Tapt arbeidsfortjeneste på visse betingelser. 
Dato opphold: 30. september -2. oktober
Innhold: Turen blir fylt med design-relatert innhold. Fullt program kommer nærmere.
Verdi: 10.000 kr per person
Vinnere kontaktes: innen 15. juli. Ogf forbeholder seg retten til å trekke ny vinner dersom vinner ikke bekrefter deltagelse innen en uke.
Vi annonserer vinnerne her og gjennom våre SoMe-kanaler etter godkjenning fra hver enkelt.
Vi tar forbehold om justeringer av detaljer.
Hold deg oppdatert på vår Facebook, Instagram og LinkedIn.
edit: VINNERNE
Da har vi trukket 10 heldige vinnere av en gratis studietur til København! Vi gleder oss til å bli bedre kjent med noen av medlemmene våre, her med en god blanding av aktive langtidsmedlemmer og nye tilskudd fra byråbransjen!
Vinnerne er: Daniela Vasconcelos de Farias, Per Olav Andersen, Tora Aasen, Raquel Maia Marques, Robert Mehmet Mulleng Sezer, Inge Martinsen, Anne Cappelen Grandt, Ida Nygaard, Kellie Persson og kvinne 30 år*.